Apartment Dining Room Ideas In Indianapolis

There's more to an apartment dining room than just a basic spot to have a meal before running off to your bustling life. It's where you make memories with those you love, having meaningful conversation or a entertaining night of board games. It's likely that you'll spend a lot of time there, so it's smart to decorate the room in a manner you and others will appreciate.
If you're getting ready to relocate into a new community, use these apartment dining room ideas in Indianapolis to craft an attractive, useful space.
Inject A Bit Of Style Into Your Room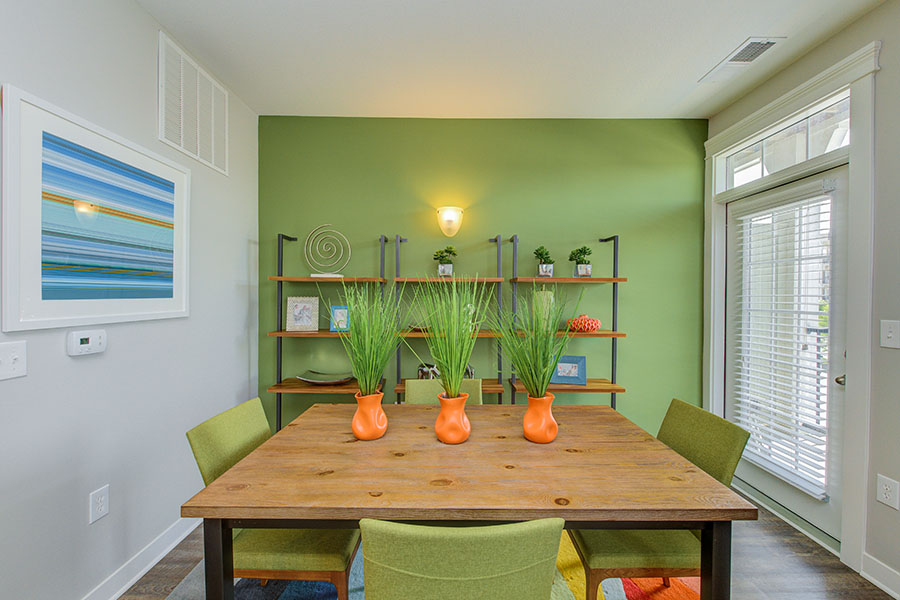 Your Indianapolis apartment dining room doesn't have to be uninteresting. There's no guideline that mandates your apartment dining room in Indianapolis must be unexciting. In fact, inject some panache and let it be reflective of your own style. You are able to do this by creating your own centerpiece or adding eye-catching artwork. If you prefer something a little more subdued, you could simply choose distinctive plates, vases, and placements. Seats are another chance to show off your design expertise by using cushions in your preference of colors and patterns.
Here are some other ideas on furnishing your dining room:
Make sure that it blends in with other rooms, such as your kitchen or connected family room. This is particularly important for open-concept floor plans. If your kitchen includes lighter or darker cabinetry, it's a smart decision to reflect that in the hue of your dining table and other decor items.
If you have an open floor plan, you can help define the space with an area rug. This will add a unique element of style while reducing noise from sliding chairs.
Choose Sensible Furniture In Your Indianapolis Apartment Dining Room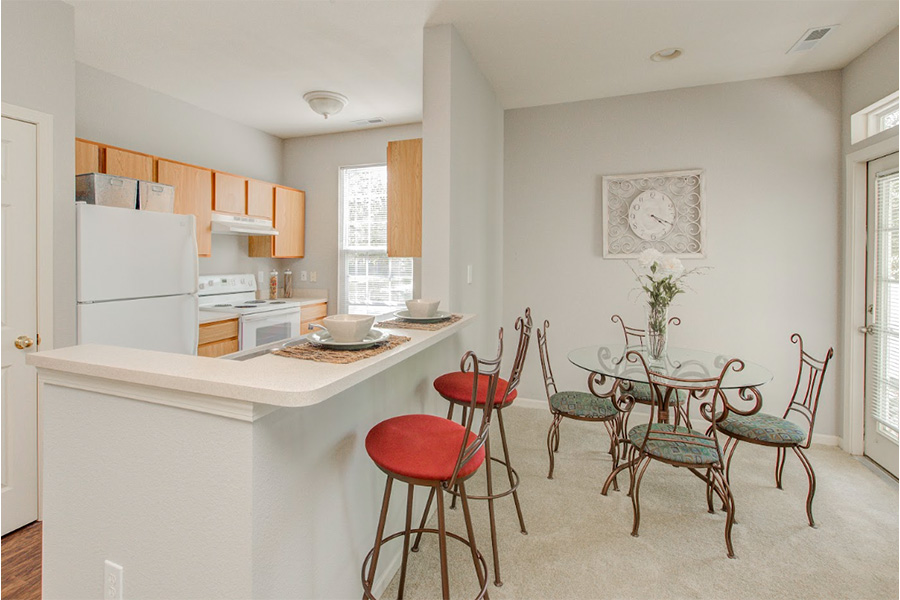 Regardless of whether your apartment dining room is big or small, it's crucial to use tables and other items that are proportionate to the space you have available. Armchairs and oversized hutches will make the area seem cramped. On the other hand, furnishings like circular tables are space efficient. They're easier to walk around, and you can squeeze in an extra chair when required. If you have a rectangular table, bench seats you can place next to a wall is a sensible choice. You might even try an L-shaped bench when space is truly at a premium.
You can also utilize these other suggestions for making the most of your space:
Adaptable pieces like drop-leaf or extendable tables are an excellent choice. You might also add a shelving unit or sideboard for extra storage.
A large mirror is able to make the room look bigger.
In addition, don't overlook comfort when picking your tables and chairs. When you're a few hours into that exciting board game, you'll be happy your seats have some padding.
Design Your Apartment Dining Room At Block 20
Put your new apartment dining room ideas to useGet started with your new apartment dining room ideasNow that you know some great apartment dining room ideas, put them in action at Block 20! Our inspired apartments in Indianapolis come in various floor plans to meet your unique taste. You'll also enjoy access to a nice assortment of amenities to enhance your lifestyle. Schedule a tour to discover what we have to offer, or simply reach out to us at 463-777-2762.