How To Make A Smart Apartment In Indianapolis

Smart gadgets are now quite popular in Indianapolis houses. Numerous electronics and appliances feature smart connectivity to benefit your lifestyle. But you shouldn't feel that you are out of luck if you reside in an apartment. You might not be permitted to rewire your apartment for smart equipment, but you are still able to find various gadgets to make your apartment smart in Indianapolis.
Use Smart Plugs To Manage Lights And Other Home Equipment From Anywhere
If you're trying to figure out how to make a smart apartment in Indianapolis, take the first step with smart plugs. They are simply inserted into your existing electrical outlets, and then you plug in your favorite electronics and appliances. ​​You'll now be able to power them on or off with an app on your smartphone when you're not home or you would rather not walk to another room of your sizeable apartment to manually do it. Turn on and off the bedroom lights from your bed. Cut the power source to difficult-to-access electrical components when going on vacation. You may even schedule lights to activate at certain times to make it look like you're home when you're not.
Control Various Devices By Using A Smart Speaker
The next important gadget for making your apartment smart in Indianapolis is a smart speaker. You direct these components simply by saying commands to the AI assistant programmed in your speaker. The AI assistant replies when you want to know the current temperature and follows instructions like when you request it to begin playing a certain playlist.
You can also take advantage of your smart speaker to control other smart components. Tell it to turn on the lights when you get home, power on the TV for your little ones when you're busy cooking, or turn off a smart plug in a different area.
Control The Lights In Your Unit With Smart Bulbs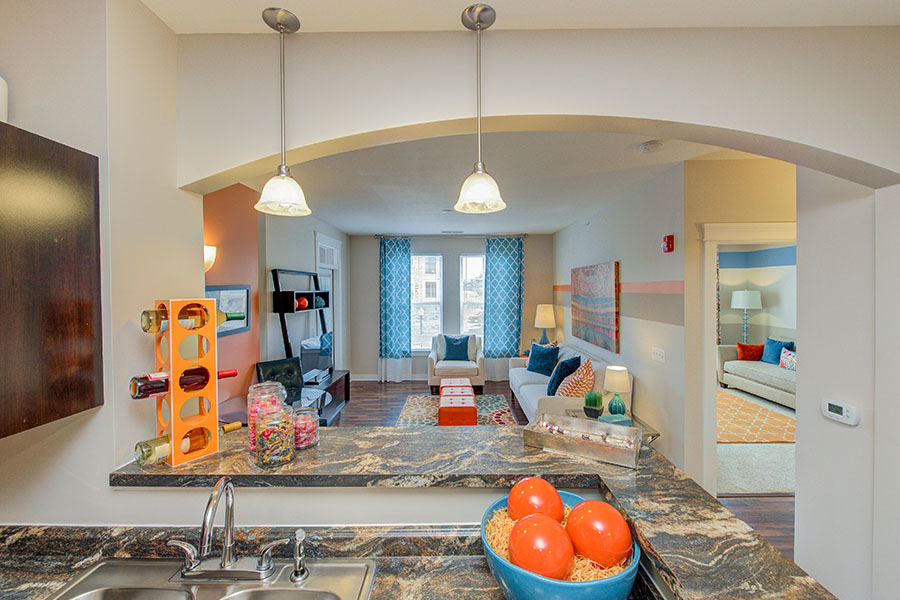 With smart light bulbs in each of your lamps, you have the ability to add convenience to your life by controlling the lighting in your Indianapolis apartment by using the sound of your voice or a press of your finger. Smart bulbs interact with your smart speaker's personal assistant and your smartphone app. So instead of going room to room shutting off lights, you can say "Turn off lights!" to turn them off prior to leaving for the day, or simply go to the app on your cell phone to command smart bulbs to dim, brighten, and even change colors to fit your mood.
Maintain A Close Watch On Things With Smart Video Cameras
It doesn't matter if you live in the
safest neighborhood around
, home security is still a critical consideration. While it's true you can't install hardwired components within your apartment, some smart video cameras will make you feel safer. Wireless surveillance systems are powered by batteries and deliver real-time clips to your smartphone. Security cameras scare off burglars and provide real evidence if criminal activity does happen.
Smart video components do more than protect against crime, though. If you reside in a pet-friendly property, you can look after Fido with your surveillance component while you're working. Or if you have little ones, a smart video monitor offers enhanced peace of mind when they're sleeping.
Go The "Smart" Route And Check Out Block 20 For Your Future Apartment
With luxury amenities and sizeable apartments in a popular Indianapolis location, you'll enjoy residing at Block 20. Call 463-777-2762 or request a tour, and our leasing consultants will aid you in picking the perfect apartment for you!